Mother of Pearls
Mother of Pearls
is a very special portfolio of 18 of William Giles' photographs. Each hand made 4x5 contact print is mounted and over-matted. The collection is housed in a portfolio box. Individual prints are also available. If you are interested in purchasing this portfolio, please send an e-mail to
mop@williamgiles.com
.
INTRODUCTION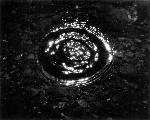 The degrees of personal expression through the medium of photography is evidenced in William Giles' portfolio Mother of Pearls. Here he stretches heart and mind by using the full potential of the medium to create beauty in silver prints. The extraordinary and refreshing element which dominates his work is that of sheer joy. Rectangles of shaped light seem to pulse with a steady rhythm. It reflects the photographer's untethered flow of love for his art. Giles' silent wish seems to be to call forth the light from within the objects photographed.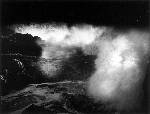 The light emanating from the photographs expresses inner movement and constant change, giving life to images of stone, which appear feather light, and rock which seems tender to the touch. Alongside the light is an equal amount of darkness. This darkness is seldom brooding or heavy, but rather serves as a ground which invites mystery to take part in the image.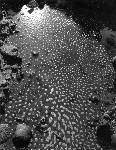 Individually the photographs are beautiful to behold. One can glide with the silver rhythms which are as if breathed onto the subjects and set in motion by Giles' love of light. The careful selection of photographs chosen produces an affirmative theme of light which concentrates, moves, and expands. From image to image Mother of Pearls is a living experience of light held sacred.
PAUL CAPONIGRO